Welcome to the homepage for
sailing on ice.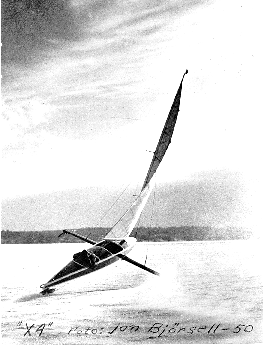 You can get it in Swedish,oder auf Deutsch.


This site is probably
the first one about icesailing in the whole history of man.
October 1995.

You , who wants to sail together with others, who wants to get nice company and who wants to sail safe
put your name and address down
so the icesailors in the neighbourhood can contact you.
Sail safe Sail together

contact sailing pals.

It does not matter where you are sailing or which kinde of sailing you are practising put your name and address down so other icesailor can contact you and you can sail safe together.
Look at pictures, read information or use links:

OK. We know very well how a modern site is built, full of gadgets, which make it slow.
Our site is the oldest in history still working. Our site is only of plain information. It is built according the NOSHIT-princip.
Isabella yachts
Uses windsurfingsails with a simple-, easy to build-, cheap-, hard to break iceboat.
What is a Isabella yacht?
Pictures and a section with Construction tips. Read the summery of last season


Large yachts
Large, old yachts which are mostly sailing on St.Värtan in Stockholm . New pictures 1999 from USA showing World speed-record holder. and other yachts.
DN yachts A old class; often home-built and an extreme construction; weak but fast in light winds.
Specialy build for competicion.
Skate sailing
A important sport in Sweden and very tough
.




Safety
Nothing is like sailing on ice. We know that! But the fun is still greater when we are sailing together and this way of sailing is safer. Here you can get an ice-reports and information about where we are sailing here in Stockholm and a report from our last sailings.
Large-, DN-, Isabella-yachts and Scatesailing.
Large yachtsLarge yachts
Look at a picture of such a yacht .
Here in Sweden there are several kinds of large yachts; the X-yacht and the XV-yacht are the most common ones but in Stockholm on St.Värtan old gems from the beginning of this century are often seen sailing.



DN yachts
In the area of Stockholm there are many DN-yachts and many clubs. F.i. SIK, Stockholms Isjakts Klubb and GIK , Görvelns Isjakts Klubb, NYIS Nynäshamns isjaktsklubb.




Here are new Clips from 8.2.2005
High lift 1200kb
Fast sailing 900kb
Isabella yachts
Isabella sailing in Mariefred on the lake Mälaren 22.2.2019

What is a Isabella yacht?
We are sailing only to the KISS -rule (Keep It Simple Stupid).

The whole idea of Isabella is KISS. There are three models: Isabellakiss and a simplification Isabella Classic
The Isabella is so easy to build. You just bolt the steel-work on common wood-beams. In Sweden 45x95mm and 23x95mm. For the Isabellakiss you have to build a simple hull. I made it in 9 hours inclusive painting and everything. Then we put our windsurfing- rigg on it without any damage to it. This ice-boat is easily transported on an autotop carrier.
Well, there are drawings and you can look at a sample of these on the webb.Isabellakiss 2018 and Isabella Classic 2018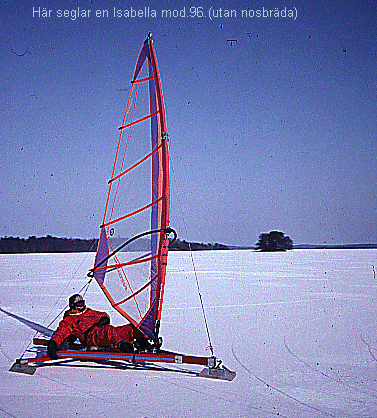 You can see a lot of different construction details on our webb Trim it is in swedish but you can understand the information easily
It is odd but here one of the worlds best illustrators, Paul Buckhöj, has made this wonderful pictures of the Isabella.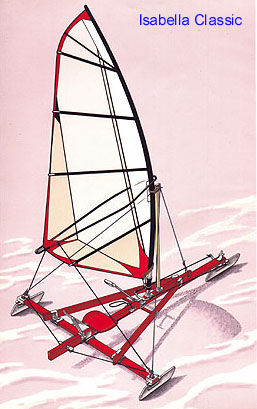 --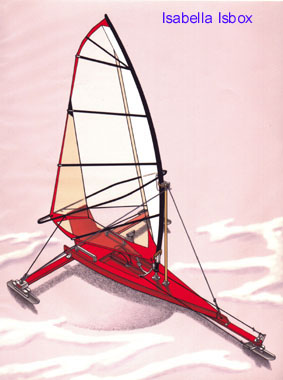 --These are elder models.

News:
Now we have built the final Isabella Isabellakiss. You need just a few steelparts; Runners and chock holders
Isabella Classic Isabellakiss the newest and best model

---------------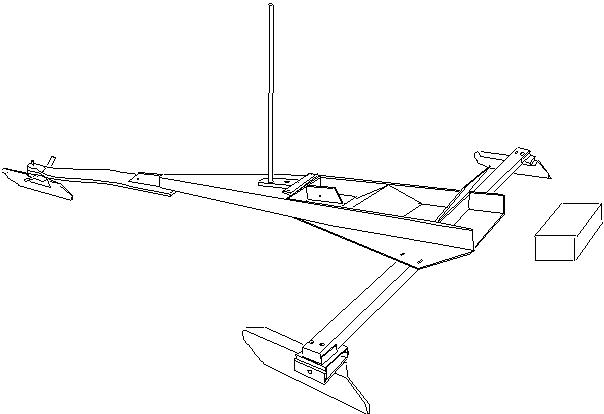 Here are pictures of building a IsabellaKiss.
Better than this it needs not be.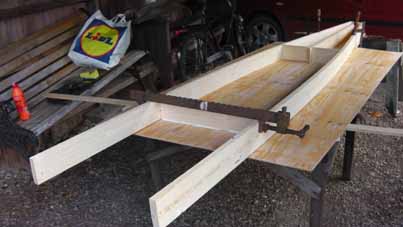 The IsabellaKiss was too heavy, I think. The sides ought to be 12x95mm instead of 23x95. Nose center board should be 23 when the M8 holes are to be drilled through it. The blunt bow supports the springboard better.
Construction time was maybe four hours but the drying time in november 3 weeks.
Easy as pie!
You can ask about drawings and assembly directions if you mail me.
Look here at assembly direktion for the Isabellakiss 2018 and Isabella Classic 2018
Here you can look at videos
You can use DN-runners and chock holder.
Here are some pictures from the real world now:

-
Summery
Season 20013-2019
Poor ice and little sailing. The last few years only once a year.
Better in USA.
Hi Bernd,
Don't know if you are still updating the web site. I wanted to let you know what a fantastic time I had sailing my new Isabella KISS. I'm from Minnesota in the U.S. and we had smooth ice with no snow this year from mid-November to early January. I got out about 20 times always thinking it may be the last opportunity, but the snow held off until we finally got about 30 inches in January.
THANK YOU for publishing your design -- it performed beautifully, even in wind gusts as strong as 30 mph. I'm advising another guy who is building one here in Minneapolis and I hope to encourage a few more builders.I modified the design a little to add a combination storage compartment/rear seat which worked very well. I strapped on an extra 2x4 cross plank and attached about 10 lbs. of sand bags to the spring board when using it. I also built a very comfortable seat that I modeled after my recumbent bike seat -- it was so worth it!
I attached a couple of photos and here is a link to a Youtube that I posted: https://www.youtube.com/watch?v=Km7F3d3nH-I
Hope the sailing season was good for you, as well.
Greg Lindberg


Season 20011-2012
Good ices. Good siölings february-march.
Seasons 2009-20011
No good ices here in middel Sweden.
Season 2008-2009
We hade a meeting for all Isabella sillors in Falun where we siled in god conditions for two days.
Season 2007-2008
We hade ice here on the Mälaren in middle Sweden just two days around Christmas this season. But there was fine ice on lake Runn near Falun in Dalarna. There was ice from the
beginning of December 07 to end of mars 08, almost 4 month. In Falun there are also good accommodations. Me sailed there many times.
Season 2006-2007
Again a bad season. It was snowing when the water got frozen over. That made the ice again dangerous and we could not sail many times.
Season 2005-2006
Justb a awful season. Bad and dangerous ices, two very experienced skaters drowned. We could sail just afew times.
Season 2001-2002.
This time our season started record early. Already the 3.11.2002 I got a report on ices in the North and this ices spread south so one could sail on lake Tämnaren just north of Uppsala. But when we got there 6.12.2002 there was too little wind.
On the 9.12 we got strong ice here in Strängnäs/Sörfjärden lake Mälaren where I live but no wind so I was able to sail first time 11.12.2002. After that time we hade strong ice here to 21.3.2003 when all ice on this bay suddenly cracked all over. Snow made ice sailing impossible here between New Years Eve and 2.2.2003, almost 36 days but we went sailing
100 Km southward on saltwater ices near the town Trosa. This season we hade also many days with too little wind, 14 days, so I sailed not more than 29 days. Bearing last year in mind when I managed to sail only 11 times, this season was good.
The weekend 29.1-2.2 three of us Isabella Ice Sailor from Stockholm was invited to visit our friends Botniae Ice Sailor in Luleå hig up in the North of Sweden. What a marvellous bunch of people they are! We from the South would not even dream of sailing in such conditions as they do. Storm, snow, bad ice and terrible cold did not bother them at all. We did sail! And their concept of putting skis under the runners worked excellent. Than we have their fantastic hospitality which seems to be a naturel part of the society in that barren nature up there in the North.
We who are sailing ice-boat, know that this is grooviest of all occupation and this knowlegd spreds widely not only because there are many more yachts every year, but also because the media has opened their eyes.
Summary. 1998-99
Here I am summing up the reports I have got.From Finland, Germany and the USA I have got reports. In Finland/ Esbo/ Helsinki the season started 19.12.1998 and lasted to medium March. In Germany there was really no season. They were able to sail only twice and only short distances.From the USA I have got reports on fine sailings even on Isabellas on wheels. Here in Sweden the season started for the Isabellas 21.11.1998 on the lake Fysingen 30km north Stockholm and ended on my behalf 30.3.1999 ( with a bath ) at Sorfjarden/Strangnäs 40km west Stockholm. Totaly 128 days, but we was not able to sail every day. The weather stopped that. I was able to sail 20 times and stod still on the ice
because snow and too little wind 9 times. We sailed on 13 different lakes, most of them within a hour car-transport from Stockholm. This was a medium season and I will remember this season because one wonderful sailing in
Strangnas and my two bathes.
Summery 2000 and so on
Since 2004 we have had bad icebergs to sail here in the middle of Sweden.




The difference between the models are:
If you do not want to do woodwork choose the Isabella Classic.The yacht will sink immediately when she is going through the ice.
The Isabellakiss will float, is more stiff and stable, is a better sailing vessel.
.
ISABELLA (140K)whith a seat as an armchair. Here is an Isabellakiss sailing on this saisons most fantastic tour;25km i one tack on lake Mälaren.
Here is real fast racing (160K) Or how I use my iceboat-windsurfingrigg on a little boat (186K)


Pictures from 13.8.1996:
View of Isabella(122k) with seat and in wind, this saison so rare.
The whole gang (118k) who sailed 25 km in one tack on the lake Mälaren, Björkfjärden/Prästfjärden.
No wind at all we had often, but then our Isabellaladies (95k) went scating.
Here you get a close look at the yachts when Stymers (124k) are sitting and amusing themselves waiting for the wind.

Pictures from 15.2.1997, all 120k.
Two Isabella Iceboats and one Isabella in the background.
We are diciding where to sail.
There was a hole in the ice and we are warning the rest.
Every time we are stopping there are many curious skaters around us.
Here is a close look at a Isabella and the sheeting arrangement.

Pictures 17.3.1997.
Isabella iceboaters who are preparing there new iceboats for the first race.
Rest on ice.
Iceboats on a mirror.
Close look at Isabella Iceboat.

Pictures -98
Look what you can do with your Isabella!
Håkan Wohlgasts dubbelseated Iceboat The seats are behinde each other.
close-up picture of Håkans Iceboat with a really tall iceboater.Notice the passenger-seat behinde.
Here you see a usual Isabella and in the background is Torbjörn Schulz´s dainty Iceboat with a top of canvas on a frame.


Pictures -99.

Here is a old Isabella "still going strong".
Two Isabella Icboats on the ice in Stockholm/Bromma.
A gang of happy iceboaters parading before longsailing .Ice like a mirror,sunshine and strong winds.Is there something better?
Close look at two Isabella Iceboats with covers.




Bilder 1999-2000
What is this? A Isabella? Yes. This is one plastic Isabella whith a tube-rigging. But is this KISS?
The Isabella can be as beautiful as you want.
This is real ice-sailing happiness on St. Värtan / Stockholm
Here is a Isabella whith Laser-sail.
Here they do not have time to wait for wind in the new Isabella.
Even small children can sail a Isabella.
"I love my Isabella" -mailed Michel Prenovost from the USA.
And here is a real dubble seater from The States. Fred Shappert sailed even against Debutante on lake Winnibago.
In Lulea, in the north of Sweden they pu ski on the Isabella
Close look at the ski.



Pictures 2000-2001
Lifting Isabella on lake Mälaren.
The sun is shining on the Isabella on Bråviken/Baltic.

New pictures 2002-2003
From
lake
Mälaren
Januari
2003

Here is a lift nere Stallarholmen
And here is it a question of bathe


Construction tips
Isabella. Dubbel seater. Note the foldable seat-back, shaped stem, side chock and the ordinary stay mast with top and open ring.
Isabella. Dubbel seater Note the handlebar which can turn left-right.
Isabella. Note the mastlengthener, stay stretcher, sheet, strap around sideboard and footrest.
Isabella Isbox. Note the foldable seat-back, the foldable seat-back for the feets.
Isabella Isbox. Note the help-mast against which the windsurfingmast is fastened with straps, the plank, the tiller.



Iceboat history.
This is the "Debutante" holder of the world speed record. It is listed in the Guinness Book of Records. It was officially recorded in 1938 by a class "A" stern-steerer on Lake Winnebago in Oshkosh, Wisconsin, USA. It lists the record as 143 mph (229kmh) with a wind speed of 72 mph (115 kmh). It was set by a man named John D. Buckstaff who lived in Oshkosh at the time.
The "Deuce" will hold 4 people. It takes 3 to sail it, one run the jibsail, one the mainsail and one to work the rudder.
This yacht was built in the 1930's by Don Ward the founder of South Side Ice Yacht Club , Oshkosh Wis.
Is this a DN? no, it is a Arrow-class front steerer.




mail
Bernd Stymer.
Call me
Helgarö, Väla Gård
S-64592 Strängnäs
Tel/Fax +46 (0)152 80107
Mobil: 070-2484231


Navigare necesse est,said the old Romans, but for us it is also necessary to sail the
iceboat(160K)
ISABELLA!

Uppdated, what and when?
Swedish site every day under saison november-mars; sailing events, pictures, ice- and sailing reports a.s.o. Look on more pictures on the swedish site.
To the Swedish homepage.
English site uppdated every beginning of the season.

Over 200 000 have visited this site then 1995.
Our provider have booted the counter so often so we skip it now.


This site was developed by the princip of NOSHIT.